Empowering modern businesses with purposeful support
We're dedicated to empowering businesses by providing purposeful and tailored legal support. With a keen understanding of the unique challenges they face, we offer solutions that foster growth, enhance efficiency, and drive success, ensuring that every step of their journey is marked by confidence and achievement. Our mission is to empower businesses and individuals with strategic legal support. With a deep understanding of their unique needs, we provide solutions that drive success in the modern corporate landscape.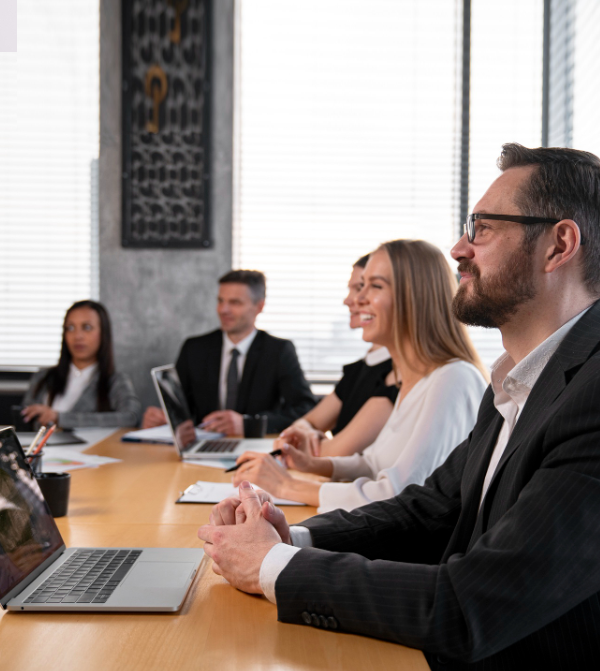 Services and support for
London Businesses
We excel in delivering tailored support to London's small and medium businesses.

Support Around the Clock
Our team of highly skilled technicians are standing by to assist you anytime issues arise. Whether it's after normal business hours, weekends or holidays, someone is always available to troubleshoot crashes, outages, connectivity problems and more.

All Inclusive Offering
Our all-inclusive offering is your one-stop solution for comprehensive and hassle-free services. From start to finish, we cover every aspect, ensuring convenience and top-quality results. Say goodbye to complex processes because we can addresses all your needs under one roof.

Data Protection
Data protection is paramount in the digital age. Safeguarding sensitive legal information from threats and breaches is crucial. Our comprehensive data protection solutions ensure that your data remains secure and compliant with regulations.

Predictable IT budget
Our pricing is clear, easy to understand, and predictable, so you can budget for your business growth without surprises. Our pricing is straightforward, easy to understand, and consistent, so you can budget for growth with confidence and no hidden charges.
A complete range of
services


to suit all demands
Meeting Your Needs and Expectations
Unlock 5 Key Benefits with AD Legal Expand Your Practice Area Expertise
Outsource specialised legal services to contract lawyers, elevating your firm's capabilities without adding full-time staff. Enable Flexible
Staffing
Access qualified legal assistance on-demand for any project for example, enjoying the freedom of freelance lawyers without long-term commitments. Lower the Cost of Your Legal Services
AD Legal charges no sign-up or monthly fees, passing the savings directly to you and your clients. Lower the Cost of Your Legal Services
AD Legal charges no sign-up or monthly fees, passing the savings directly to you and your clients. Achieve Work-Life
Balance
Avoid burnout by tapping into external support when needed, giving you more time for your personal life and passions.
Discover a World of Outsourced Legal Services
With ADLegal.uk, you can outsource a wide range of tasks, from document review to legal research and more. Our platform connects you with skilled freelance lawyers who are ready to assist, ensuring you can focus on driving your firm's success. As the legal process outsourcing industry evolves, ADLegal.uk keeps you ahead with trends like artificial intelligence and automation, hybrid outsourcing, and the rise in e-discovery services. Benefit from cutting-edge solutions and stay competitive in today's dynamic legal Landscape. Build a More Profitable Practice with ADLegal.uk
Are you ready to revolutionise your law firm's operations?
Join AD Legal and unlock the potential of legal process outsourcing.
Maximise your efficiency, cut costs, and elevate your services to new heights.
Experience the power of streamlined success at AD Legal today. Start exploring the future of your law firm now: www.ADLegal.uk