What is Legal Process Outsourcing for Law Firms?
Legal process outsourcing empowers you to cut costs and save time by delegating non-core tasks to external experts. Imagine mundane routines like document review, scanning, and court appearances handled seamlessly, while you focus on what you do best – bringing in new business and providing exceptional service to your clients.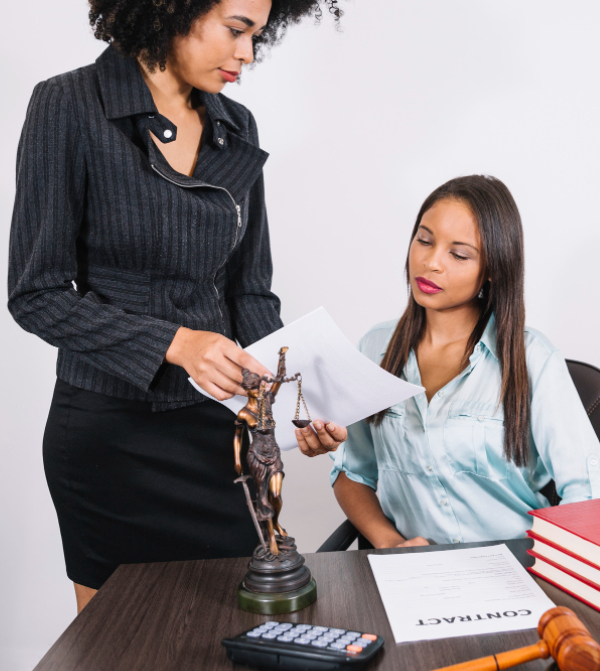 Examples of what you can outsource

Contract Drafting and Review
Our legal experts can assist in drafting, reviewing, and revising contracts and agreements to ensure accuracy and compliance with applicable laws and regulations.

Legal Research

Our professionals conduct legal research to gather relevant case laws, statutes, and legal precedents that can support a client's case or provide legal Insights.

Document Review and Management
We can handle large volumes of documents, such as during litigation discovery, to identify relevant information or sensitive data.

Intellectual Property (IP) Services
This includes patent searches, patent drafting, trademark registrations, copyright filings, and other IP-related tasks.

Legal Transcription and Documentation
Services may involve converting audio or video recordings of legal proceedings into written documents.
Legal Writing and
Briefs
Our legal professionals can assist in preparing legal briefs, motions, and other court documents.

Litigation Support

This includes various tasks related to supporting the litigation processes, such as e-discovery, case management, and legal administrative tasks.

Compliance and Regulatory Matters
Legal outsourcing can help businesses stay up to date with changing regulations and ensure compliance with relevant laws.

Legal Support Services

These may include administrative tasks, paralegal support, and legal correspondence.

Due Diligence
Outsourcing firms can perform due diligence reviews for mergers, acquisitions, and other business transactions. Join the
Legal Process Outsourcing

Trend for 2023
The legal industry has embraced legal process outsourcing, and the numbers don't lie. A booming global market, estimated to reach £35.9 billion by 2025, showcases the trend's undeniable growth. Join the ranks of successful firms benefiting from this cost-saving, efficient approach.
Unlock 5 Key Benefits with AD Legal Expand Your Practice Area Expertise
Outsource specialised legal services to contract lawyers, elevating your firm's capabilities without adding full-time staff. Enable Flexible
Staffing
Access qualified legal assistance on-demand for any project for example, enjoying the freedom of freelance lawyers without long-term commitments. Lower the Cost of Your Legal Services
AD Legal charges no sign-up or monthly fees, passing the savings directly to you and your clients. Lower the Cost of Your Legal Services
AD Legal charges no sign-up or monthly fees, passing the savings directly to you and your clients. Achieve Work-Life
Balance
Avoid burnout by tapping into external support when needed, giving you more time for your personal life and passions.
Discover a World of Outsourced Legal Services
With ADLegal.uk, you can outsource a wide range of tasks, from document review to legal research and more. Our platform connects you with skilled freelance lawyers who are ready to assist, ensuring you can focus on driving your firm's success. As the legal process outsourcing industry evolves, ADLegal.uk keeps you ahead with trends like artificial intelligence and automation, hybrid outsourcing, and the rise in e-discovery services. Benefit from cutting-edge solutions and stay competitive in today's dynamic legal Landscape. Build a More Profitable Practice with ADLegal.uk
Are you ready to revolutionise your law firm's operations?
Join AD Legal and unlock the potential of legal process outsourcing.
Maximise your efficiency, cut costs, and elevate your services to new heights.
Experience the power of streamlined success at AD Legal today. Start exploring the future of your law firm now: www.ADLegal.uk